Horni Slavkov Board Game Club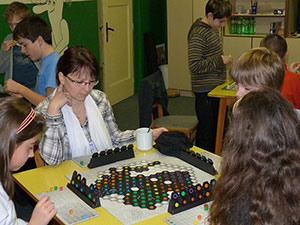 The Horni Slavkov Board Game Club was founded on 29 September 2006, and has been active from that date to the present time. Children aged 7-13 represent the typical age group attending this club. The club is open from October to May, every Friday from 4 p.m. to 6 p.m., and two teachers are present during opening hours. Adults can also come to accompany their younger children and play with them. More than 45 games are available, with varying levels of difficulty. The games are purchased thanks to the financial support of the town of Horni Slavkov, or borrowed from teachers.
Financial support from the town makes it possible to organize regular pairs board game tournaments . The two-member teams mostly consist of friends or siblings, but parents with their children also compete. Around 13 teams regularly participate in the tournaments. The aim of each team is to collect as many points as possible by taking the best places in selected games during the 2.5 hours of the tournament. In this way, the teams can play up to 15 board games with varying levels of difficulty.