Mensa Conference on Talent Development – March 2015
On Tuesday March 24th, 2015, I set out for the Parliament of the Czech Republic to participate in the Mensa Conference for Talent Development. As a parent of two first-graders, I came to draw inspiration and find out what kind of activities are organized by schools to support the development of children.
Prof. RNDr. Milan Hejný, CSc., Ing. Tomáš Blumenstein, Ing. Hana Kalusová, Ing. Pavlína Boučková, PhDr. Jitka Fořtíková, Ph.D., Mgr. Dana Havlová, Mgr. Miloslav Hubatka, PaedDr. Marie Nedvědová and others
24.3.2015, 8:00 — 25.3.2015, 14:00
Chamber of Deputies of the Parliament of the Czech Republic, Sněmovní 1, 118 00 Prague (1st day, conference) / The Mensa Grammar School, Španielova 1111/19, 163 00 Prague (2nd day, workshops)
---
As I arrived just before the conference started, I found the Parliament auditorium already full. I sat down on the edge of the last bench, and was ready to leave with the laptop and use the first part of the day to handle my emails. I had already attended two of Professor Hejný's lectures in the past, and I expected that this one would not be too different from those given during the autumn Mensa conference in Prostějov. I couldn't have been more wrong! Professor Hejný can talk about his father's method not only with great enthusiasm and great passion, but also in a different way every time, giving a few different examples from practice, so I didn't even think about dealing with emails.
Although different children may prefer different teaching methods (whether for maths, reading, or other activities), and each method has its own pros and cons, its supporters and opponents, I would definitely welcome if Professor Hejný's method were introduced in our grammar school for maths lessons. Nowadays, new discoveries are being made every day, and in my opinion, it is much more important to teach children (and not just children!) to think critically and to seek, sort, and process information, rather than just to memorize patterns that they often do not understand. Besides, it was obvious how much the professor cares about these children, and I can also feel that attitude from the Hejný method as such.
After Professor Hejný's speech, three interesting lectures followed. The first was a lecture by PhDr. Pavla Picková "Gift Identification", then a lecture by PaedDr. Marie Nedvědová "Teaching Gifted Children at Primary School Máj II in České Budějovice", and just before lunch, a lecture by Ing. Tomáš Blumenstein and Ing. Hana Kalusová devoted to Mensa CR.
The afternoon programme was held in three halls for most of the time, and participants were able to choose the topics they found of particular interest.
The whole programme was concluded by a lecture and subsequent discussion with Mgr. Michael Urban of the Ministry of Education, Youth, and Sports, whose field of expertise is the care of talented pupils. Mr. Urban introduced the concept of talent support, and a project of financial support for teachers and other staff whose pupils or students will be at the forefront of various contests and Olympiads. Although there were a number of questions about the specific problems of the audience members, and Mr Urban was not able to answer all of them, as these were often outside his field of expertise, he made a good impression on me. I saw in him the willingness to listen, to help, and to improve Czech education. I hope that there are more MEYS officials like him.
On the organizational side, the conference really went well. The organizers managed to engage an excellent venue and lecturers. Food and drinks were also plentiful.
If I had to change something for the next year, I would probably just increase the time allowance for the afternoon section lectures, and add one extra break, which would make it easier for the conference participants to move between the different halls, and also allow the organizers to compare some time discrepancies between the lecture blocks.
I would like to take this opportunity to thank all of the organizers, and wish them many more successful conferences!
Martin Lupa
Participant of Conference Day 1
Photo gallery
Click on the link or the photo below to view the photo gallery.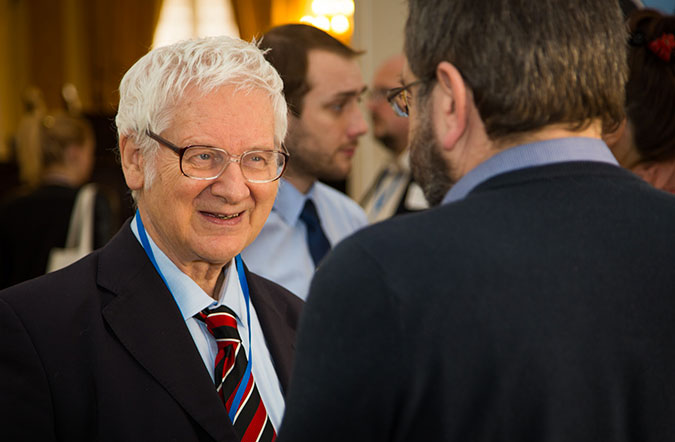 Related topics
26.3.2015