The Mensa Grammar School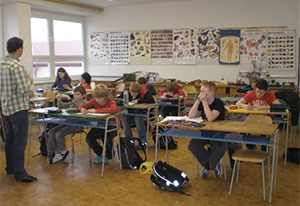 The Mensa Grammar School (in Czech: Mensa gymnázium, o.p.s.) was founded in 1993 by Katerina Havlickova and currently is the only secondary school in the Czech Republic which is focused on the education of gifted students. Interestingly, it is the only grammar school worldwide established by Mensa.
The Mensa Grammar School offers above-standard education and a highly individual approach, both from pedagogical and psychological points of view. The school supports students in their pleasure from learning, their creativity, develops their social skills and self-recognition, and teaches them how to work in teams. Optional subjects and seminar work are available from the 1st year of study, enabling students to focus on their subject(s) of interest. Some subjects (such as mathematics or foreign languages) are taught in mixed groups, created with respect to students' levels, so that each student belongs to a group which corresponds to his/her current abilities. Some subjects are taught directly at university departments (such as physics at the Faculty of Mathematics and Physics at Charles University in Prague). The Mensa Grammar School raises well-educated, creative, and independent-minded personalities.
URL: http://www.mensagymnazium.cz (the website is currently only available in the Czech language)
---
---
---
---
---
---
---